A huge thank you to the sponsoring Esty shops on this giveaway! You are all wonderful and unique.
There is a rather wide variety of styles in this giveaway, so feel free to comment on what you like best. Eight random winners will be selected, but if you let me know what you're hoping for I might be able to match you up with your favorite item. ;-)
Romeo and Juliet
"A rose by any other name would smell as sweet."
If you are a Bronte, Austen, or cupcake fan, you will love this shop!
The Tempest
"Miranda" by Waterhouse
Silver necklace.
Beautiful artwork on boxes and necklaces. Love the shop name. :-)
As You Like It
"All the World's a Stage"
Bottle Cap
If you are very creative and love to recycle you will love this
shop
. :-)
Leather Ophelia Bookmark
Donated by
Immortal Longings
Fine Shakespeare Gifts and Illustrations
Comedy and Tragedy Mask Necklace
Hamlet
Ophelia by Waterhouse
Glass Pendent
BELLSPEAL uses gorgeous art and has some amazing stuff. This necklace came all the way from Spain. :-)
Leather Tempest Bookmark
Entries
1. Visit up to two of the sponsoring Etsy shops and post what you like best here at the Erratic Muse. (Each shop counts as one entry if posted separately.)

2. Post about this giveaway on your blog.

3. Post my giveaway button on your sidebar.

4. Comment and tell me one of your favorite lines or characters from Shakespeare and why.
5. Write a Shakespeare themed post and link back to me. (
Linked to here
.)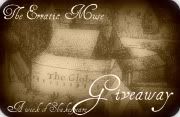 This button ended up a bit small, but that means it should fit comfortably on all your sidebars! :-)
Thanks so much,
Miss Pickwickian